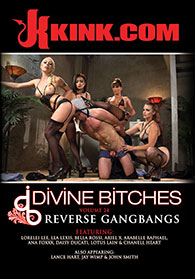 Release date: December 20, 2017


When Lance Hart tries to take advantage of three disadvantaged tricks he gets AN unforgettable taste of the power & strength of women. Lance thinks he can intimidate them with harsh words but is overwhelmed when Arabelle, Ana, and Lorelei overpower him and teach him a lesson in masculinity. He's flogged, humiliated, and smothered before being pegged by all three of these ruthless, gorgeous women.
Chanell, Daisy, and Lotus make Jay Wimp the happiest man on Earth by allowing him to worship every inch of their bodies. These gorgeous, seductive, and demanding women put Jay through lots of humiliation, foot worship, pussy worship, strap-on ass banging, whipping and so much more! Don't miss a chance to worship these fine ass divine bitches!
Lorelei, Ariel, Lea, and Bella seize control of the local jail and capture the rookie cop, John, to be their slave. Ass worship, pussy licking, tease & denial cock milking, strap-on ass fucking, humiliation and punishment are all included. Hot, Intense four on one femdom at its best!