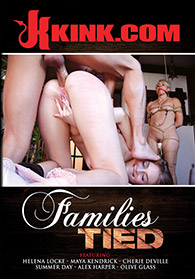 Release date: September 17, 2018


Cherie Deville and Summer Day meet guys on dating sites with a plan to blackmail them. The tables are turned when Tommy shows up and ties them up in bondage, then has his way with all of their willing holes. He puts them through flogging & cropping, intense deep throating, pile driver bondage, clamps, and hardcore fucking & anal sex before he lets them go.

Submissive beauty Olive Glass brings her new Master to meet her dominant step-sister, Alex Harper. Alex and Derrick take turns punishing Olive as the power struggle ensues to figure out who will be the Alpha in this relationship. Derrick gets them both tied up and uses all of their holes for his pleasure. He then makes Olive lick up his hot cum from Alex's well used cunt.

Prim and proper Helena Locke schemes to steal her step-daughter's boyfriend. Helena is jealous of all the good dick Maya has been getting and wants to get some action herself. She seduces Xander, but when Maya finds out it turns into an all out bondage free-for-all. Xander gives them both every inch of his big cock and leaves them both yearning for more.