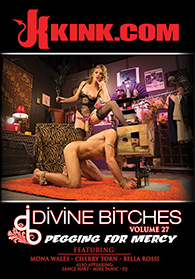 Release date: October 03, 2018


Shoe salesman Lance Hart tries to sniff Cherry Torn's feet as he helps her pick out new heels. Cherry doesn't mind some enthusiastic foot worship as long as she gets to expose Lance for the slut he is. She presses her heels into his erection and makes him worship her shoes and her feet before fucking him with a strap-on and making him cum all over himself.

Bella Rossi is a gorgeous red-headed domme who knows how to treat a man. When Mike Panic arrives late for his session, Bella steps it up a notch. She binds and gags him to keep his mouth shut before using floggers and crops to tenderize his flesh. After clamping his nipples and ball sack, Bella pegs him with her strap-on then leaves him a withered, pouting mess.

DJ has no idea what's in store for him when he enters Divine Bitch Mona Wales' vintage shop. She gets him into a straight jacket and makes him get on his knees and worship her feet. Mona pulls out a crop and spanks him as she makes him lick her sweet cunt and asshole then pounds his ass with a strap-on until she cums.