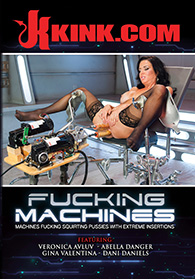 Release date: October 10, 2018


We recently had Abella Danger come to the castle and stay for three days straight. Her journey started here on fucking machines, but in typical Abella fashion, she insisted that we tie her up for the scenes. Abella is put in a variety of bondage positions that have her pussy always exposed and ready for power fucking. We show off her amazing body and fuck her into a babbling cum drunk state.

Gina is a smoking hot Brazilian slut that loves to fuck. We put her pussy to the test with high speed machines and fuck her until she can't breathe. Once she has caught her breath we do it all over again until she doesn't have anything left to give.

Dani came to the Armory and spent 3 days with me. This is the third day after being tormented and dominated, I decided to give her a little relaxing machine fucking. We put her perfect body on display and fuck her until she's had enough. Then we sit back and watch as she comes back for more...she always comes back for more!!

Veronica Avluv challenges all of our most powerful Fucking Machines and our biggest dicks to a free-for-all-fuck-off and wins. When the shoot was over the machines were soaking, broken, and steaming from the never ending stream of raw sexual energy that she unleashed on our set. Our machines will never work the same way again....