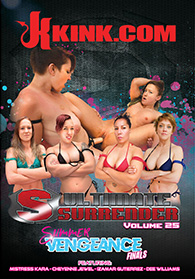 Release date: October 17, 2018


Challenger Izamar Gutierrez takes on #1 ranked Mistress Kara for a spot in the finals. Izamar gets trapped in round 1 as Kara fingers away at her tight pussy. In round 2, Izamar figures out how to stop Kara and takes the offensive. The winner revels in her victory, then makes the loser worship her body before she's fucked hard by the winner.

Today we have Dee Williams against Cheyenne Jewel to see who gets the last spot in the finals. These champions have honed their wrestling skills and this match showcases their abilities and finesse that they exude on the mats. The loser is made to worship the winner's muscles, and take a deep strap-on dicking then the winner rides the disgraced loser's face to orgasm!

The Summer Vengeance Series Tournament Finals are here! Cheyenne Jewel takes on Mistress Kara for the crown. Evenly matched, the fighters struggle to score points but in the end the winner is clear. The winner takes her prize and has her way with the loser, then is crowned champion of the Summer Vengeance Series!