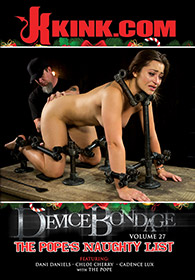 Release date: December 12, 2018


Chloe Cherry suffers in bondage at the hands of The Pope. She begins in a standing back bend position which exposes her body to sadistic torment from the flogger and crop. Chloe is fucked into mind blowing orgasms as she squirms and fights to free herself but is helpless and has to suffer through the punishment.

Dani Daniels is a playful creature that enjoys being made to suffer. She wants to be restrained to ensure that the suffering and torment are inescapable. She craves the pain, not a lot, but just enough to bring her to tears. She finds comfort in her suffering and then smiles again when the orgasms are ripped from her pussy.

Cadence Lux begins in a standing position with a burlap sack over her head and her legs spread as The Pope decides what to do with her. Her flesh glows a bright red as he torments her with leather floggers and whips. A massive zipper is applied to her flesh and then covered in hot wax as a fuck machine pounds her pussy to powerful orgasms.