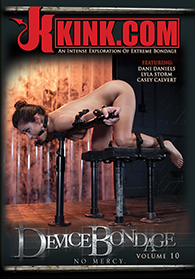 Release date: March 02, 2015
An Intense Exploration Of Extreme Bondage

LYLA STORM & THE POPE
In a standing spread eagle, a chain is used to inflict extreme torment on Lyla Storm's pussy and bowling balls are attached to make it even more grueling. Later, she is put in a partial suspension with her legs spread, exposing her cunt and there is more delicious tormenting of her sensitive and helpless body…and we're not done yet...

CASEY CALVERT & THE POPE
Casey is running from something, or someone who is tracking her down. She is afraid and runs into what she thinks is a safe place. She thinks she's alone, then out of nowhere he appears. Taken down in a struggle, and then restrained, she's terrorized by strict devices, and evil torment. How long can this fragile captive take this before she's had enough?

DANI DANIELS & THE POPE
Dani is one of those high end whores that everyone treats like a queen…until now. She will suffer like all the rest as the torment begins and she finds that there is pain to be had and it's excruciating. Helpless to defend herself against the constant torment and fully immobilized, the anguish reaches heights she's never experienced, yet her orgasms are stronger than ever.