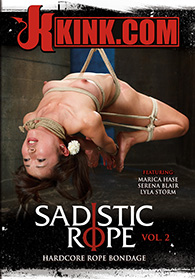 Release date: October 28, 2015
Hardcore Rope Bondage

Some girls are just made for bondage, and Marica is one of those girls. She has worked with some of the best in the world and the Pope wanted his hands and rope on her for some time now. She is about to get a full dose of Sadistic Rope.

Serena has a body to die for, and we torment this whore to the point of total destruction. The torment ramps up and finally this slut is rewarded with a first of many orgasms. She's a tough bitch, but that's not enough.

Exotic pain slut, Lyla Storm is devastated by the most brutal bondage shoot of her career. She is stretched wide, tormented beyond anything she has ever had to endure. Every orgasm she gets she has to earn.