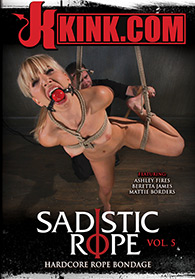 Release date: April 25, 2016
Hardcore Rope Bondage

Mattie Borders, The Pope
Mattie is very new, barely 18, and with little experience so we slowly ramp up the pain. It doesn't take much to make this little bitch scream and I make sure she screams all day. I realize that she is so new that she's still unaware of what it feels like to have multiple orgasms ripped from her cunt. That's just too fucking bad; learn bitch.

Beretta James, The Pope
Beretta oozes sex appeal and her cunt is glistening as soon as she arrives. This slut can't wait to get tied and tormented. I decided that her cunt will be my main object to abuse throughout the day. That hot cunt is so worked over, that it will be a long time before she uses it without thinking of me and the pain I inflicted upon it. Good.

Ashley Fires, The Pope
Ashley is known around the bondage world as a strict Fem Domme but today she is just another whore that will suffer. She has a natural, perfect body that is begging to be abused, so I get her bound tightly and begin the long process of tormenting every part of her body and mind. Welcome to the other side.